University Pathway Planning
Ontario Universities' Fair (OUF)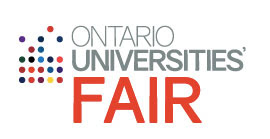 September 27-29, 2019: If you're thinking about attending an Ontario university, don't miss the Ontario Universities' Fair!
See all 21 Ontario universities under one roof at the 2019 Ontario Universities' Fair, located at the Metro Toronto Convention Centre. Over 139,000 students and their families attended last year.
University Timeline
September – November 2019
Start your research with eInfo .
By the end of November 2019
You will receive your Application PIN Letter from your guidance counsellor with your school number, student number and temporary PIN. Keep this letter for your records. You will need this information to apply.
January 15, 2020

Deadline to submit your completed application to the OUAC.

May 29, 2020
The last date you should expect any kind of a response from an Ontario University. This includes: an offer of admission; a refusal; or a
deferral, once additional information is received.
June 3, 2020
The earliest date by which Ontario universities may require you to respond to an offer of admission.
e

INFO
Start your Research with eINFO

Find and compare Ontario university programs, plus get information about residences, scholarships, campus visits and more.
Take Your Future Further!
Future Further provides information about supports and services for Indigenous students interested in attending an Ontario university.
Applying to University
General Program Requirements
 Completion of OSSD (high school diploma)
 Completion of Grade 12 English (ENG4U)
 Completion of 5 other Grade 12 U (university) or
Grade 12 M (university/college) courses
Note: Students must check with individual universities for specific
program requirements (courses, grades).
OUAC Application Portal
OUAC Application Quick Links – Tutorials
What you need to know about the Admission Information Form
Student with an IEP
Learn more here: Post Secondary Accessibility
Transition Resource Guide for Students with Disabilities
Local Universities & Colleges
Programs:  Architecture, Business, Design, Criminal Justice,  Health, Nursing, Telecommunications, Engineering, Public Relations.
Top 5 Campus Tour Do's and Don'ts – make it more than a road trip

Programs:  Arts, Business, Computer Science, Education, Engineering, Environment, Health, International Studies & Languages, Journalism, Mathematics, Music, (Life) Sciences, Social Work
Ontario Student Assistance Program (OSAP)
Log in here:
| | | | |
| --- | --- | --- | --- |
| Date | EVENT | Time | Location |
|  May TBA |  OSAP  PRESENTATION  |       TBA |  Library |
Scholarships, Bursaries and Awards:
Funding Your Post-Secondary Education – see the Scholarships and Bursaries page.